1 formats starting at
$11.99
A marriage of finances, faith and facts exposing the schemes of forces that are putting many in bondage today. It's time for individuals and communities to be enlightened and freed from the bondage of debt and destructive thinking.
1 formats starting at
$24.99
Gents with No Cents explores a rarely examined side of Wall Street: Its childish antics. From accountants that can't count to financial regulators that don't regulate, this book will make you howl with laughter at their incompetence.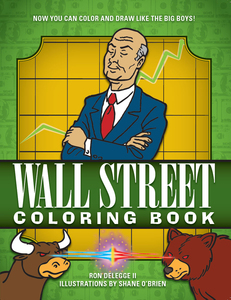 1 formats starting at
$7.99
"Wall Street is a place with a river at one end and a graveyard at the other," so goes the saying. Stark cold as that may sound, it misses the nursey school in between and that's what the Wall Street Coloring Book is all about.
1 formats starting at
$24.99
Begin the transformation of the Internal Audit function by applying Total Quality Management (TQM) concepts. The book, Total Quality Auditing, How a Total Quality Mindset Can Help Internal Audit Add Real Value, presents how to put TQM concepts to work in the world of Internal Auditing. The Total Quality Auditing (TQA) Six Points of Focus including Ethics and Culture, Standards of Conduct, Customer Feedback, Lean Auditing, Balance of Audit and Consulting and Internal Audit Leadership provide a framework that can be immediately applied to increase the value of Internal Audit through proactive steps to reduced risks and improved organization effectiveness.