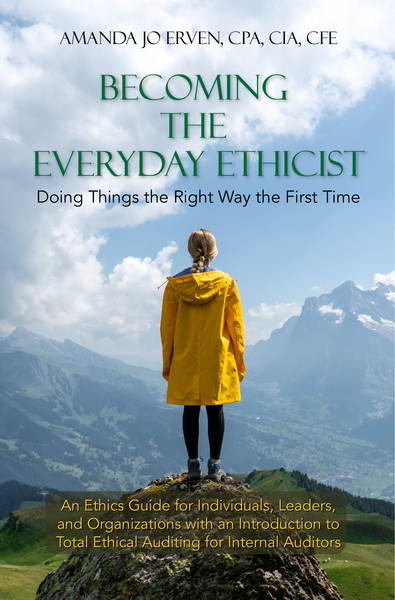 Amanda Jo Erven
About the Author
Amanda "Jo" Erven is an internal audit strategist, continuing professional education trainer, higher education professor, keynote speaker as well as author.
Jo is the President and Founder of Audit. Consulting. Education. LLC, a firm specializing in progressive Internal Auditing, management consulting, organization development, and Continuing Professional Education (CPE) to individuals globally.
After completing her bachelor's and master's degrees in Accounting from the University of Georgia, Jo began her career in public accounting at one of the Big Four firms, experienced traditional accounting positions and directed an Internal Audit function at an international Financial Services organization for over ten years.
She is a Certified Public Accountant (CPA), a Certified Internal Auditor (CIA), and a Certified Fraud Examiner (CFE). Her trademarked approach to internal audit, Total Quality Auditing® (TQA) was published in both book and workbook format in 2019. She provides in-person and virtual CPE trainings regarding her TQA techniques, which have already been successfully implemented by many organizations.
Personally, Jo is known for her proactive nature as well. After finding out she was positive for the breast and ovarian cancer gene mutation (BRCA1) in 2015, Jo underwent multiple preventative surgeries, including a double mastectomy in 2016. She believes knowledge is power and encourages others to take action in their lives. Jo's second book, Our Choices on the Road of Life (with a companion workbook), begins with a look at her story and explores how we can each make a choice to "embrace adversity." Jo delivers training and several keynote presentations on personal and professional life choices.
Jo's third book, Becoming The Everyday Ethicist: Doing Things the Right Way the First Time, provides the keys to living an ethical life, shows leaders how to display integrity and earn trust, and demonstrates the importance of ethics in all organizations. The book also includes a detailed process of auditing ethics and culture in organizations. The innovative process is called Total Ethical Auditing.
Jo is an active member and instructor for the Colorado Society of CPAs (COCPAs) as well as a member of the Institute of Internal Auditors (IIA) and the Association of Certified Fraud Examiners (ACFE). Jo is currently serving as the Vice President of Academic Relations for the Denver Chapter of the IIA. Jo is also a Professional Member of the National Speakers Association, at both the state and national level. On a more personal note, Jo is a Leadership Committee member and active volunteer with Susan G. Komen Colorado. Explore Jo's website for more information about her books, ethics and audit training and other offerings.
Contact: Jo@AuditConsultingEducation.com
www.auditconsultingeducation.com
Follow on LinkedIn: https://www.linkedin.com/in/amanda-jo-erven-ace/ https://www.linkedin.com/company/audit-consulting-education-llc
Books by this Author