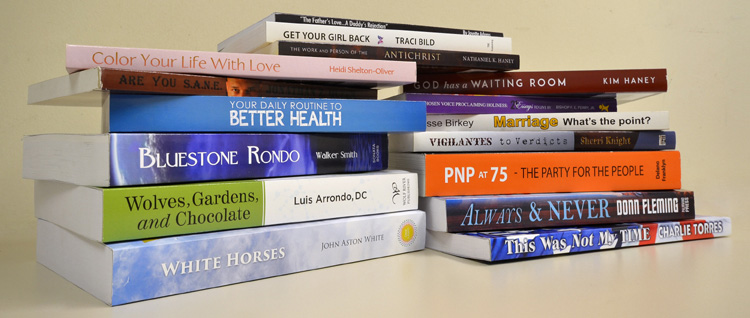 Promotional Copy Printing Services For Authors

What are Promotional Book Copies?
Promotional Book Copies and Galley Proofs are copies of your book that are printed before your final book product. These copies are normally used to give away free to a handful of readers in exchange for a review. This is used to help promote your book when it is officially released. They are also used to send off to editors and publishers in hopes that they may decide to publish your work.


Get What You Need Out Of Your Copies
A&A Printing promotional copy services are affordable and realistic. Whether you need 5 or 20 promotional copies, we can print them with no minimums, obligations or contracts! Our short run process is perfect to get those first books printed to help get you on your way. 
Printing promotional copies is important because you can use these copies in creating hype and marketing your book. You can also send a copy to any publisher to see if they have an interest in representing and selling your work. By the time you are at this stage, hopefully you have created a social presence in a niche group (or two) online, so that you have somewhere to start. We can help you with all of this and so much more.
These promotional copies can be used to send to a select few respected individuals within the niche community you have chosen, in exchange for an honest review of your book. Offer to do a book signing at a small, local venue where you can also give away one or more of these promotional copies. Remember to give a copy to the owner of the establishment, and ask if they wouldn't mind giving your book a review, as well. 
Market & Promote Your Book With Promotional Copies
Promotional copies of your finished book is of key importance, and even more so when self-publishing and marketing your finished product. A&A Printing is the authority on all aspects of printing and publishing for authors anywhere in the United States who self-publish. We can help you every step of the way, and we can do it even better than our competition.  The results of our personalized and professional custom printing services speak for themselves when you see your gallery proof and then the finished product. 
Don't wait until the last minute to figure out who you're going to use for your self-publishing and printing services. A&A can be a trusted guide throughout the process, assisting you with anything you need from start to finish. Established in 1977, we have decades of experience in the self-publishing and printing services industry that our authors benefit from every day. 

Self-Publishing With A&A Printing
Have you always wanted to be a published author and spent months or years writing your first book, but can't find a publisher? More authors today are choosing to self-publish, and A&A Printing is a full service publishing and printing company for these authors. We have been helping authors with printing services and everything they need for self-publishing their books, from ghostwriting and cover design to promotional copy services and marketing, for nearly 45 years now.
From the design for the cover of your book to the printing of promotional copies for it, you can trust A&A Printing. Our premium, high quality printing services for authors is exceptional, with over 40 years experience in the business of printing books of all types and sizes. Why go anywhere else for your promotional copy printing and all other self-publishing needs? Also check out our book marketing services.
Ready to self publish? Get your self publishing quote today!
For More Information On Promotional Book Copies, Fill Out The Form Below Or Call 813-886-0065