We recently had the privilege to work with a group of tigers! Tampa's very own Morgan Woods Elementary 3rd grade Tigers had so many stories to share that they made them into a book!
"Tiger Tales" was written as a fun project for the five 3rd grade classes and school office staff. We are sure they will be sharing them with family and friends as well!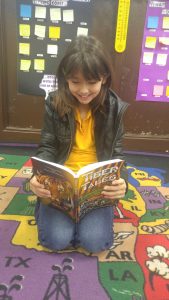 3rd Grader, Serenity, enjoying the stories she and fellow classmates wrote.
Some of the tales the friendly Tigers shared were: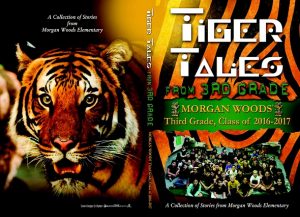 Tiger Tales back and front cover
My Trip To Cuba
Going To Dad's Work
Pokemon
My Pencil
My Best Friend
I Believe In Santa
The Police Chase
My Guinea Pig
Fluffy Puff the Pony
My Dog Ate My Mom's Cake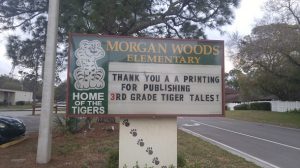 We would like to give a thanks to Morgan Woods Elementary and the 3rd grade classes for letting us be a part of this great project! Go Tigers! Roar!