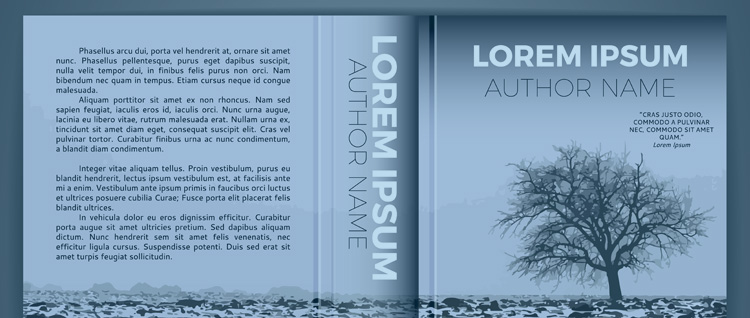 Book Cover Design Services From A&A Printing
Professional Book Cover Designs And Printing For Authors

Are you an author ready to complete your work and need help with a book cover design service from a real professional? If so, A&A Printing has been in business since 1977, helping authors with every aspect of self-publishing, printing and even marketing their own books, from start to finish. With over four decades of knowledge and experience in the industry, we offer comprehensive services that will actually help you succeed. We do traditional books as well as ebooks, including book cover design for either one or both. Most authors put out an ebook version with their traditional book whenever possible.

The Importance of Having a Great Book Cover Design

How important is the design of your book cover? Well, if you want to actually sell your book, it's one of the most important marketing points to interest potential readers you've got. And it's the reader's first impression, and we all know how critical these are! The truth is, people do judge a book by its cover. Therefore, if you are tempted to try and design a book cover of your own, don't make the same mistake so many other new authors do. Have your book cover design done professionally, by a real graphics designer or artist. It will pay off in the long run, in a substantial way.

Book Cover Design With Everyone In Mind

One thing you may not presently be cognizant of, is the fact that whether you're designing a traditional book cover or the cover of an ebook, you'll want to optimize the design of your cover for viewers online, as well. That means a digital artist or graphic designer will also be needed to copy a more traditional artist's print design. So even if you're just self-publishing a physical book, you'll still be keeping your online audience of buyers in mind when creating your outstanding book cover design. Remember to keep the font and lettering bold and easily readable even when turned into a thumbnail-size picture, as well as the actual design on your book cover.

Additional Tips For When You Design A Book Cover

Remember how important your book cover is and get it right the first time, with the professionals at A&A Printing. Studies show the average reader browses through book covers for about 2 seconds each, therefore that's how long you have to grab them and make that all-important first impression. Be sure you're designing your cover according to the interests of the genre you're writing for. Research what the most popular book covers look like. Ask people who read books like yours what grabs their attention. Especially if this is your first publishing and you want people to notice, take the time needed to design a book cover that really encompasses the nature of the story within it! Let A&A Printing be your trusted guide.
Looking to hire someone to write your book? Learn more about our ghostwriting services.
For More Information On Cover Design, Fill Out The Form Below Or Call 813-886-0065